Bad blogging and random stuff
I've been a bad blogger. It's been a week since I posted anything here. To be honest with y'all, I haven't had very much to say and it was a hectic week last week. I promise I'll try to be a better blogger from now on.
Now for the random stuff to get you caught up with my life (like you really care LOL):
1. My nephew Ty has been in the hospital for the better part of the past two weeks and we still don't know when he's getting out. He's got a bacterial infection and his poor little immune deficient body is having a hard time fighting it. (He's 7 and fighting ALL - leukemia) He's a tough little man, though. He's actually liking the fact that he can "get what I want, pretty much anytime I want". Yep, he's learned how to work the system. [vbg]
2. E's work schedule got changed. Now he's going to be working four days a week but each day will be 12 - 14 hours. I'm thrilled about the overtime pay but sad that I won't get to see much of him in the evenings for a while.
3. We finally got E's truck repaired from the wreck he had just over a year ago. Why? Because his inspection sticker is expired and he couldn't get another one as long as he had taillight damage.
4. I finished El's scarf and I think it came out great. It's wide enough that she can use it as a wrap or she can fold or scrunch it up and wear it as a scarf. It's red blended chenille. I swear I'll post a pic soon.
5. I'm beginning the
Wavy
scarf from
knitty.com
in a charcoal grey wool for E.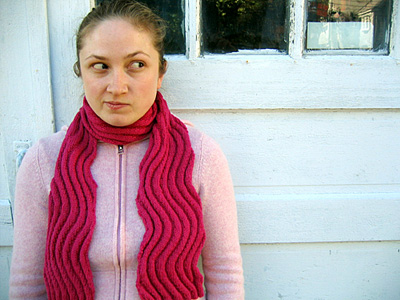 It will look very manly in the grey wool.
6. I was a terrible friend on Saturday. I had scheduled a 2 pm CDT phone date with my friend
DixiePeach
and I forgot to call her. Now I feel terrible. :-( Dix, I'm so very sorry. Can we reschedule? How about this Sunday? I'm really lonesome.
7. E and I went out with K & M and Y & Er Saturday night. We had dinner at
Zea
in Lafayette on Saturday night. We finished the evening at Y & Er's visiting and imbibing in the
Funky Llama
wine we'd brought and the
Don Pedro
brandy that K & M brought. K and I don't really drink so we watched as the other four enjoyed themselves, maybe a little too much. E had a miserable ride home and a rather aching head for most of the day yesterday. That's what he gets for mixing his liquor. [vbg]
8. Yesterday I watched the entire
Michael Palin - Himalaya
series on the
Travel Channel
from start to finish. It was a great series.
9. Last night Ty and El's 5 year-old Border Collie Jazzy died. She'd had a stroke of some sorts at the beginning of the summer and she had another one yesterday. El's little heart is broken. :-(
10. Keith is back in Orlando for the Shuttle launch tomorrow. He's being interviewed by an Austin, TX radio station at 7 am in the morning. He's nervous but he'll do fine. :-)
Now you're all caught up. I'm too tired to get into the Karl Rove debachle here tonight. Suffice it to say that I'm very proud of
Louisiana Senator Mary Landrieu
. She's one of 26 Senators that have signed a request for immediate hearings on Rove-gate. Go, Mary!